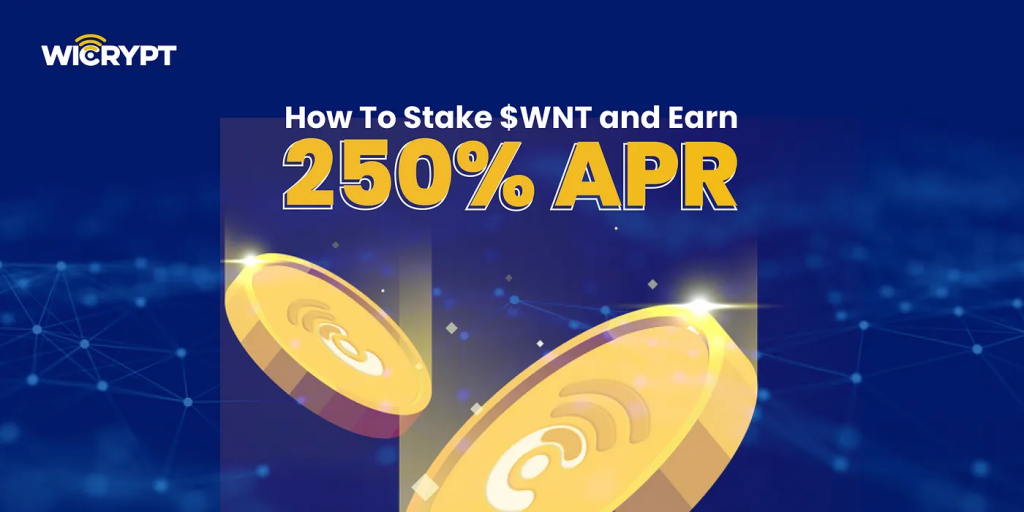 In most crypto projects, staking is a way of storing funds in a cryptocurrency wallet to maintain the blockchain network's security and functioning. Staking, simply put, is the act of securing cryptocurrency in order to get benefits.
Staking on the Wicrypt network comes with tremendous rewards. Early users earn up to 250% APR on their WNT. You don't want to miss this opportunity.
If you have the Wicrypt hotspot hub, you can start mining WNT. To start mining on the Wicrypt network, you need to stake WNT. If you're not sure why staking is necessary, read this article on Proof-of-Stake and why it matters.
The first step in staking WNT is to set up a Metamask wallet. Read more on how to setup a Metamask wallet.
Once you have created your Metamask account, you need to connect it to the Polygon Network. This is important in order to connect your Metamask to the Wicrypt staking platform. Read more how to connect your Metamask to Polygon Network.
Once this process is done, you can connect your wallet to the Wicrypt Staking platform.
There are two ways to stake on the Wicrypt Network:
Flexible
Lockup (fixed).
With Lockup staking you get the equivalent "staking score" for the whole staking period at once, while for Flexible staking, you accumulate the equivalent "staking score" over time as your staking period increases.
Follow these steps:
Step 1
Purchase WNT and MATIC (for a transaction fee) and add them to your Metamask wallet. Learn how to purchase WNT here.
Step 2
Visit https://stake.wicrypt.com/ to stake your WNT.
Step 3
On the top right corner of your dashboard, click "Connect Wallet"
Click on "Metamask"
You will be redirected to your Metamask wallet and asked to confirm the connection. Once this process is done, you will get redirected back to your Wicrypt dashboard where WNT is reflected on your staking dashboard.
Step 4
Click on "Stake" and input the amount. This will redirect you to a page where you will need to grant the Wicrypt staking platform permission to access the WNT.
Step 5
Click on "Confirm" and wait for a few seconds.
Voila! You have just successfully staked WNT and you're ready to start mining.
The advantage of staking early is that you will always be ahead of the herd. Start staking right now to get up-to 250 percent APR on your WNT.
As more individuals buy and adopt the coin, the interest on staked coins will decrease over time. So stake early to earn more as an early adopter.
Things to note while staking WNT on the Wicrypt Network
1. One wallet can only perform one type of staking. Therefore, a wallet will only do either flexible or locked staking. You'll need a different wallet to perform a different type of staking.
2. After you have staked, you need to wait for 24 hours to stake again. This is to prevent bot attacks.
3. After staking, there is a 7-day "wait period" before you can unstake. This is to ensure the credibility of Stakers.
4. An account can only stake a maximum of 30 times. This is a security measure to prevent bot attacks on our staking score model. This number can be increased over time by Wicrypt.
5. WNT earned will be updated after one week interval.
Happy Staking!