Now that you have purchased a Wicrypt hotspot hub, what's next? You can start mining $WNT by creating a hotspot zone which users can connect to access the internet using their mobile phones, smart TVs, computers and other devices that can connect to the internet. Wicrypt's goal is to create a decentralised hotspot network, accessible to anyone and therefore reduce the cost of internet connection.
To create a hotspot zone and start mining WNT, you need first to stake at least $100 WNT; this is like a proof-of-stake on the Wicrypt ecosystem.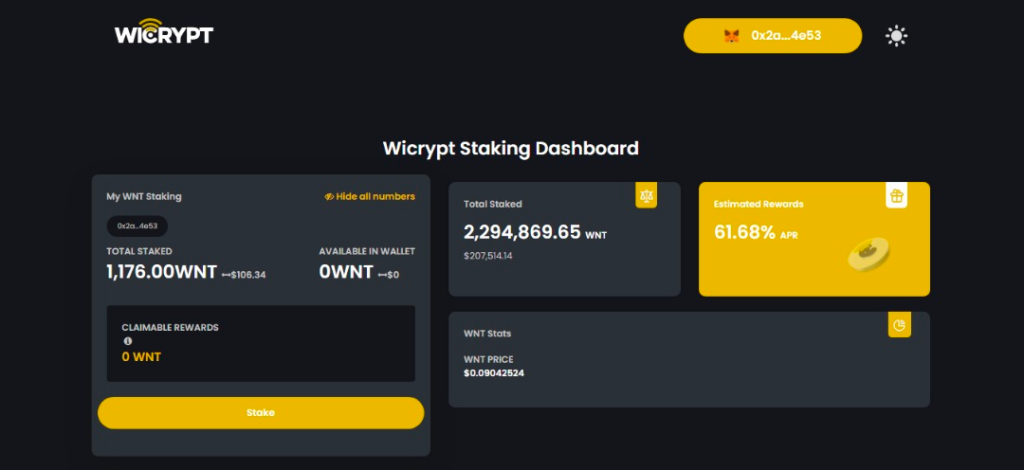 If your WNT is ready to stake or staked, you can follow the steps below to set up your hub to start mining.
STEP I:
Follow the steps in the hub manual on the product website page to register your hub as a Business and then enable 'Business Mode'.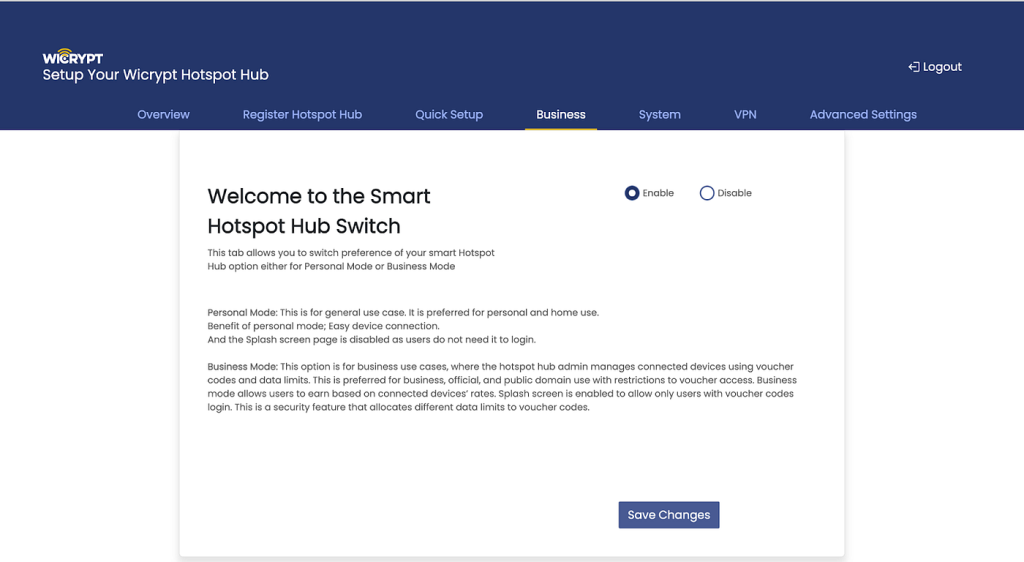 STEP II:
Set a billing rate for users who connect to your hotspot network. To do this, log on to your dashboard (https://dashboard.wicrypt.com/), select your device, and set the rate at which users will be charged per GB of the data they use.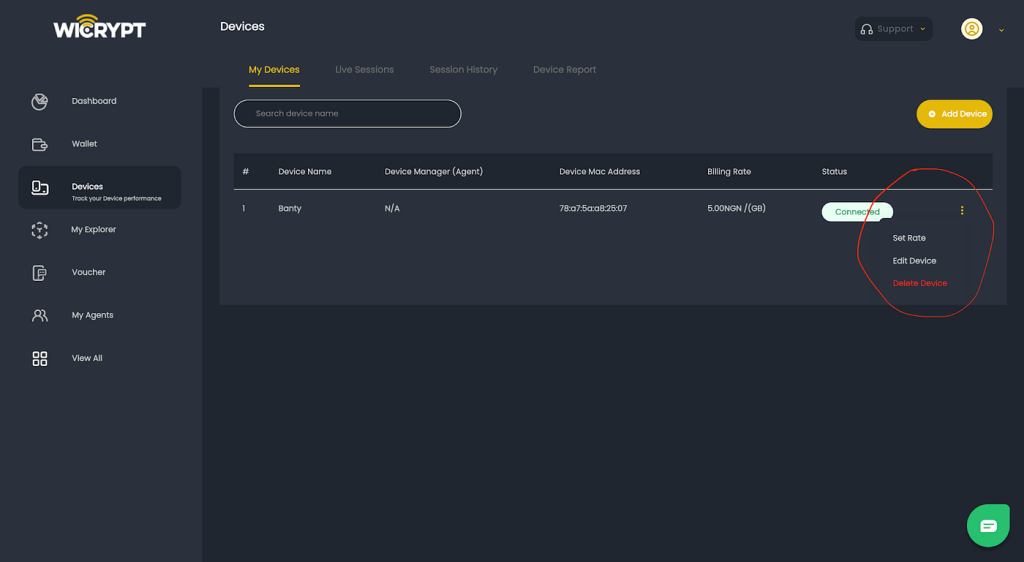 STEP III:
Get users to connect to your hotspot hub. There are several methods for connecting to a host hotspot — using the Wicrypt mobile app and a voucher or token code from the host.
To connect with the Wicrypt mobile app, users need to download and sign up, then use the same email address and a connection code as shown on the screen below (Click on the 'Connect to WiFi' button on the app home screen). The host can also send a voucher to a user's email or phone number, which can be used to connect to the hotspot.
Note: A user needs to fund the personal wallet in the app before connecting to a host's hotspot if the host has set a billing rate on his WIFI network.
Once users connect to your WiFi and use your internet over an extended period, your device will automatically mine WNT. The more people connected to your network, the faster your device mines WNT.
Read this to understand how the mining reward model works.
STEP IV:
Check your WNT mining rewards by logging on to the Wicrypt dashboard (https://dashboard.wicrypt.com/) and checking "My Explorer"
Note: You must connect the same wallet account used for staking on the dashboard by clicking on 'My Explorer' and then 'Connect Wallet' before you can mine and see your rewards.
Click on "Connect Wallet".
Select "Metamask"
Click on "Sign".
Or
You can also check your WNT mining reward from your Wicrypt mobile app, and the good news about this approach is that you don't have to connect to your Metamask to view your mining reward.
Click on "My Explorer" from the home dashboard to view your mining rewards.
Congratulations! You can now mine WNT and check your mining rewards.
To know how much WNT you can mine over a period, try out our WNT Reward Calculator.
If you get stuck while setting up your hub, email hel[email protected], and we'll respond with help as fast as possible.
Have fun mining!